Could we see $100 oil in 2018?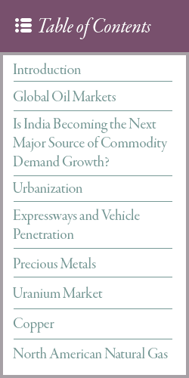 Since we first outlined our oil thesis one year ago, oil inventories have drawn by as much as 650,000 b/d relative to normal – a record rate. The market deficit continues to get worse, and 2018 should see inventories draw further. The inventory situation has finally reached the point where price action is expected to be significant.
Meanwhile, energy-related equities have lagged creating a tremendous investment opportunity. Over the last decade, conventional oil discoveries have lagged behind consumption by 250 bn barrels, and investors seem to think that shale discoveries will fill the gap. We take a contrarian view here, US shales will not be able to make up the shortfall.
Read Goehring & Rozencwajg's Q4 2017 Commentary to learn:
Additional research on our contrarian stance from 2016 on Oil. Is 2018 the year?
Why India may be the next major source of commodity demand growth
Market insights into precious metals, global oil and natural gas
Complete the form on this page to download the quarterly commentary.