"Beware the Collapse in Non-OPEC Oil Supply"
Complete the form on this page to download our Q2 2018 commentary.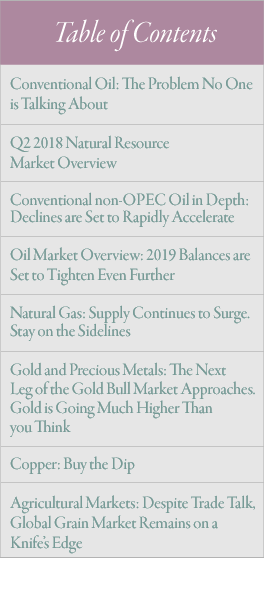 Many investors consider the drop in non-OPEC conventional production to be a non-material event given the surge in US shale oil production; however, at G&R Associates, our analysis leads us to believe investors are completely underestimating the future impact of declining non-OPEC conventional production—production that still represents 45% of world supply.
In addition to providing our research and outlook on the various commodities markets, this quarter we share additional research spotlights on oil and gold.
Read Goehring & Rozencwajg's commentary to learn:
Contrarian research on non-OPEC conventional production and US shale oil production
Why investors should be ready for a bull market in gold
Market insights on the potential impacts of trade wars
Please fill out the form on the right to download

a copy of our Q2 2018 market commentary.