The Problems with
Copper Supply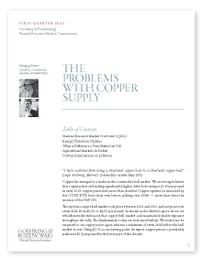 Could copper prices rally from approximately $4.50 per pound today to $15 per pound? As demand continues to increase, we focus our analysis on the supply side of the equation.
Our newest commentary, The Problems with Copper Supply, provides an in-depth look at the geological copper constraints affecting new discoveries, as well as other timely issues related to copper mining and production.

Download our Q1 2021 commentary for insight into:
A detailed view into the state of copper mining and ore reserves

Updates on the "green energy transition"

In-depth analyses on the global oil markets

Robust demand from China for agricultural imports

Complete the form on this page to download our Q1 2021 commentary.