The Distortions of Cheap Energy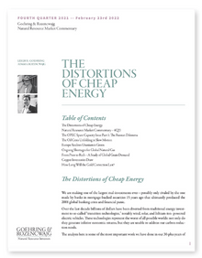 The 2010s were unique for two reasons: the lower cost of capital in human history and a 90% peak-to-trough fall in energy cost.

Many investors understand how cheap capital leads to malinvestment, but cheap energy has the same impact.

How? Cheap energy encouraged the rollout of energy-hungry renewables.

Read on to see why 2022 will be the year everyone finally understands the limitations of wind and solar.

Our newest commentary, The Distortions of Cheap Energy, looks at how low oil and gas prices have obscured the terrible energy efficiency of many "green transition" technologies.

Download our Q4 2021 commentary for insight into:

A look at what really drove down the price of wind and solar – it's not what you think!

The underlying problems with Russian oil production

Where the oil market will go from here

The dire situation with global natural gas

Please fill out the form on this page to download a copy of our Q4 2021 market commentary.