The Gas Crisis is Coming to America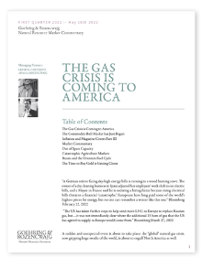 Outside of North America, there is a full blown natural gas crisis. Prices are $30 – $50 per mmcf, causing factories to shut down.

In the United States, natural gas has rallied sharply but is still only $8.00 – 73% below the international price.

What if that gap closed in a matter of days?

Our newest commentary, The Gas Crisis is Coming to America, looks at why there is such a dislocation between US and international prices and why we think it cannot last.

Download our Q1 2022 commentary for insight into:
Why US natural gas could be the best preforming sector in the market

How we used magazine covers to predict the current inflation

Why this bull market has just started


Please fill out the form on this page to download a copy of our Q1 2022 market commentary.