Into The "Red Zone" We Go
Complete the form on this page to download our Q3 2018 commentary.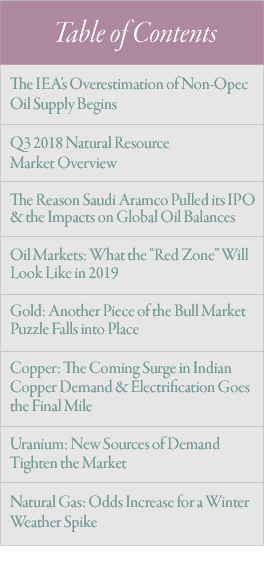 In 2006, OPEC, using flawed oil supply data from the IEA, made the decision to cut 1.2m barrels per day of production. One year later, during the events leading up to the Global Financial Crisis, this mistake manifested itself in oil prices that skyrocketed to over $140, with rippling effects throughout the global economy.
Recently, throughout 2018 our proprietary in-house models pointed to an oil supply scenario that had stealthily moved into a deficit. Energy analysts disagreed with us until oil prices moved 50% higher. Today we believe the events stemming back to 2016 are continuing to come full-circle, as the IEA recently declared that markets are "entering the red zone."
Find out what this means in our new commentary, which we trust you will enjoy.
Read Goehring & Rozencwajg's commentary to learn:
How we conduct our in-house research and develop alternative views on energy supply/demand dynamics
What similarities today's market shares with 2006
What will drive markets in gold, copper and uranium going forward


Please fill out the form on the right to download

a copy of our Q3 2018 market commentary.