We hope you enjoy the , On the Cusp of a New Commodity Cycle, that took place on July 16, 2020. Press play on the graphic below to start the presentation (MP4).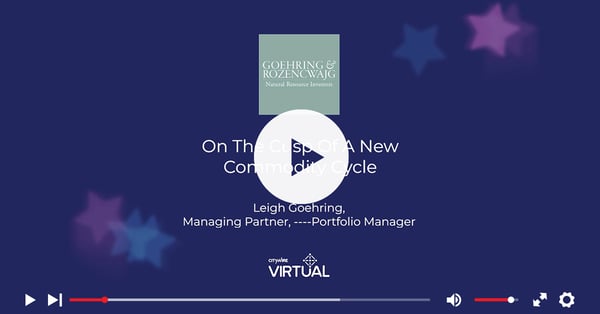 Want more market insights and contrarian views?
Questions?
Please feel free to contact us.
Stay Informed!
If you would like to be notified via email when we release new insights, please fill out the form on this page.
---
The views expressed herein are those of the Goehring & Rozencwajg team and do not constitute a prediction or projection of future events or future market behavior. This material is provided for informational purposes only and nothing herein constitutes investment, legal, accounting or tax advice. This material is general in nature and is not directed to any category of investors and should not be regarded as individualized, a recommendation, investment advice or a suggestion to engage in or refrain from any investment-related course of action. This material may include estimates, outlooks, projections and other "forward-looking statements." Due to a variety of factors, actual events may differ significantly from those presented. Information is obtained from sources deemed reliable, but there is no representation or warranty as to its accuracy, completeness or reliability. All information is current as of the date of this material and is subject to change without notice. Third-party economic or market estimates discussed herein may or may not be realized and no representation is being given regarding such estimates. Investing entails risks, including possible loss of principal.