Top Reasons to Consider Oil-Related Equities



TO ACCESS THE WHITE PAPER, PLEASE FILL OUT THE FORM ON THIS PAGE.
With Apple stock comprising over 6% of the S&P 500 Index and the entire energy industry representing less than 3%, are these stocks simply too cheap to ignore?
Could inflation be the catalyst to send oil-related stock prices considerably higher?
With the rig count cratered and demand steadily increasing, is now the time to take action?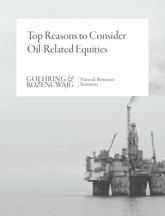 Download our white paper, Top Reasons to Consider Oil-Related Equities, which is dedicated to answering these questions. The paper is packed with stimulating visuals which should support productive conversations between colleagues and clients.
Specific themes we touch in include:
Analyzing the lack of energy exposure in most investors' portfolios

Oil as an inflation hedge

Extremely discounted valuations relative to other asset classes

Overview of current supply/demand fundamentals
Fill out the form on this page to gain immediate access to the white paper.